Aujourd'hui c'est à mon tour de lançer le challenge n°17 sur le blog des Papertrey Peeps!
Et ça tombe bien puisqu'aujourd'hui c'est la journée de la carte;-)
Pour ce nouveau challenge je propose aux Peeps de faire une carte avec à chaque fois un élement différent
Il s'intitule donc "Just One"
ex: un papier imprimé, un tampon, un ruban, un bouton, un tag etc du moment que l'élement n'apparait qu'une seule fois sur la carte;-)
Hi Peeps!
Today it's my turn to host the new challenge.
I challenge you to make a card using each time one different element on your card
Ex: one ribbon,on stamp, one button etc.... as long as the element appears just one time on your card;-)
Voici ma carte qui illustre ce challenge:
Here's my card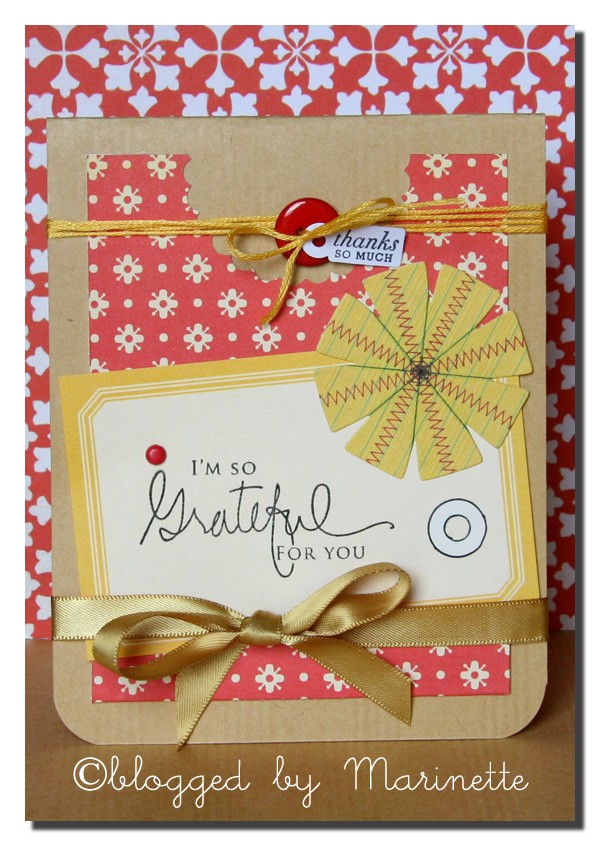 J'ai donc utilisé: un papier imprimé, un die-cut, un tampon,un ruban, un bouton, un tiny-tag,un brad, un oeillet,une fleur
Matériel utilisé: Papier Kraft La compagnie du Craft, patterned paper Cosmo Cricket,fleur Sassafras Laas, bouton basic grey, tampon PapertreyInk, ruban PapertreyInk, encre PapertreyInk, brad basic grey, tiny tag d'Ingrid Danvers
I hope you will have fun with this new challenge and I look forward to seeing what you come up with